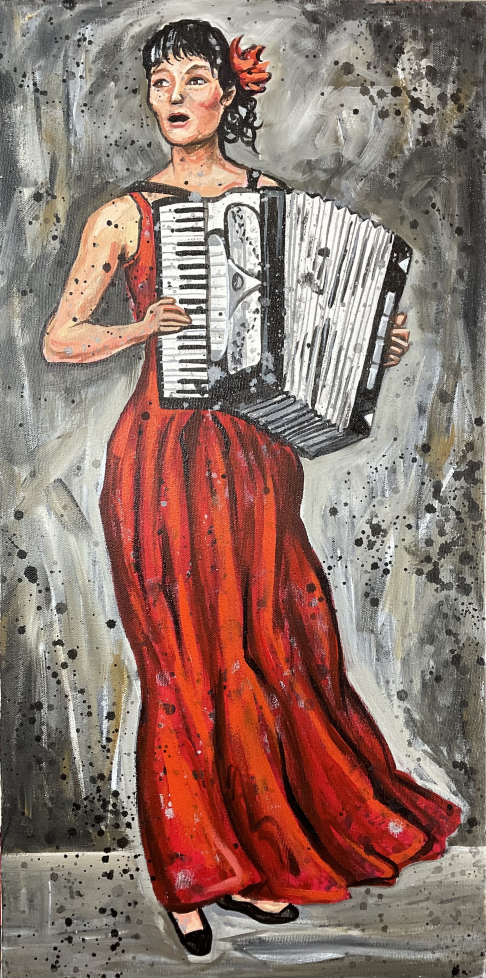 Lady Accordion
2018

12" x 24"
Shipping cost: $50.00

Max Bernardi's favorite subject as a painter is musicians, which merges two of her greatest passions in life, music and art. She draws inspiration from the collaboration and improvisation of the New Orleans music scene, feeling it to be an invisible thread that draws the entire city together. Her choices for portraiture are not limited to the most established musicians among the scene, but also from the newly emerging talent and those lesser known, who have found their unique voice with less conventional instruments or approaches to playing.
Max Bernardi first explored musical expression as the lead singer of a punk band, The Mire, while studying painting at Atlanta College of Art in 1988-89. She continued writing songs and dabbling with the accordion and tongue drum in Big Pickle, then Sproing, while freelancing as a professional scenic artist for films, commercials, corporate trade show booths and events, and most significantly- murals for museum exhibitry, such as the "Water Works Museum" in Clanton, AL. In 1994, she collaborated with Eve "Torchy" Warren to produce a burlesque variety show with a live band called, "GoGo & Torchy's Taboo Revue", one of the first of its kind since the vaudeville era.
In 1996, Max was inspired to move to the more culturally vibrant New Orleans. Her first professional projects were with Kern Sculpture, painting a large 3D cartoon alligator band for Orleans Casino in Las Vegas, and Spangenberg Studios, then Maloney Productions producing scenery and drops as large as 40' x 60' for Mardi Gras balls (1998-2004), simultaneously working as scenic charge at Southern Repertory Theatre (2002-2006). Since 1998 to the present, she has also executed many murals for the Aquarium of the America's Freeport-McMoran Changing Exhibit area, the Audubon Zoo, Insectarium, and Nature Center, along with designing and painting murals in many privately-owned homes and businesses.
While evacuated during Katrina, she felt called to play music again, and began teaching herself to play the guitar, and slowly music re-emerged into her life, however gradually.

In 2007, an educational chapter of Ms. Bernardi's life began when she was approached by Clarence Becknell, historian for Zulu Social Aid & Pleasure Club to lead two groups of high school art students in painting two educational murals, at McMain High School (2009) and Warren-Easton High School (2010), each with the theme of the historical contribution of the Buffalo Soldiers. Soon after, she designed and led an educational mural project for the House of Blues Foundation with the theme, "New Orleans: A Canvas for the Imagination". Ms. Bernardi has also had the pleasure of being selected to be the Artist in Residence at Isodore Newman School, where she researched, designed and painted two murals with their very talented and motivated students.
Some of her largest exterior projects have been painted at Walkertown Bus Terminal in Marrero, LA, Breaux Mart Grocery Store's Magazine St. location, International House of Blues Foundation, and Gulf Coast Bank, to name a few. She has also collaborated with New Orleans muralist Jamar Pierre, on a mural called "Sign of the Times" in 2021, in which she painted the portrait of Ellis Marsalis.
While doing so, she has continued playing guitar, singing and writing songs for bands such as The Lushingtons, Max & the Trail Mix, and the Souvenaires, and has one solo CD out called, "Humble Beginnings".

NEW ORLEANS
Meet the Artists
Local art is the lifeblood of our culture and communities. We source work from hundreds of painters, muralists, sculptors, metal workers, printmakers, illustrators, photographers, and textile artists, every one of whom is part of your local community.

Create your Account
With an account you can save favorite works, create collections, send messages to artists, store your shipping info, and more
---
Already a member? Sign in here

;