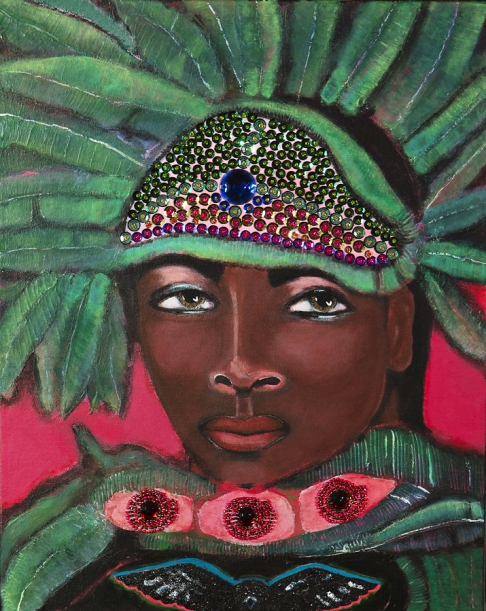 Gator Girl Art
Mardi Gras Indian
2014
I love the Mardi Gras Indians. One of my best days was when I was having a snoball on the bench of the opening day of Hansen's Sno Bliz and the Tchoupitoulas Indians just paraded right by. We were the last ones served that night and pretty much everyone else was gone. It was magical. I wanted to pay tribute to the Mardi Gras Indians by sewing beads and sequins on my painting. I looked at many photos. I went to Jefferson Variety to buy gems, beads and talk to the helpful staff. The women showed me photos and told me what they knew about costuming. I talked to a Mardi Gras Indian buying sequins for her costume. She told me that Downtown Indians use more sequins and pin feathers and Uptown Indians used more beads, gems and plume feathers. From there, I was directed to the Backstreet Cultural Museum. I looked at the costumes closely and took photos. At the Backstreet Cultural Museum, I learned the only rule is to start fresh every year. You are not allowed to use part of last years costume. It was a labor of love.
Acrylic paint, molding paste, varnish, sequins, and beads on canvas.
20" x 16" x .75"
Shipping cost: $80.00

Nancy Wolfe Kimberly, aka Gator Girl, is lover of all things New Orleans. New Orleans is her muse. Wherever she looks she is struck visually and spiritually by her surroundings. Whether it is a Mardi Gras Indian in his dazzling suit, an alligator sunning herself along the bayou, or a quiet cemetery in the evening, New Orleans speaks to her heart. When she paints she has two goals, to spread healing energy to the city and to spread the New Orleans attitude of love to the rest of the world. Nancy Wolfe Kimberly is a New Orleans artist living and working in the Uptown neighborhood.
NEW ORLEANS
Meet the Artists
Local art is the lifeblood of our culture and communities. We source work from hundreds of painters, muralists, sculptors, metal workers, printmakers, illustrators, photographers, and textile artists, every one of whom is part of your local community.

Create your Account
With an account you can save favorite works, create collections, send messages to artists, store your shipping info, and more
---
Already a member? Sign in here

;