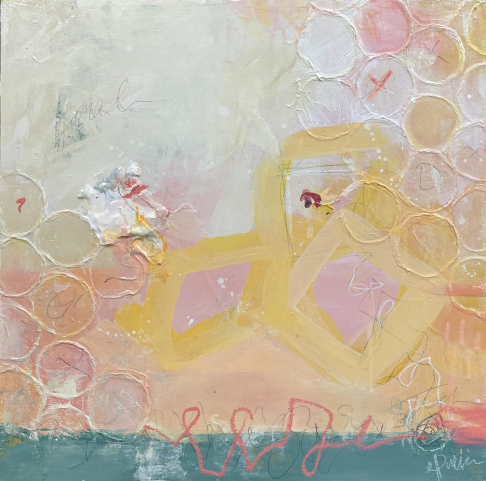 Soulful
2022

18" x 18"
Shipping cost: $40.00

I am a mixed media artist in North Louisiana.   I live in Ruston with my husband, Matt, two sons, Henry and Sam, and our two German Shorthaired Pointers - Henley (as in Don) and Frey (as in Glenn).  I graduated from Louisiana Tech University with a Bachelor of Interior Design and a Masters in Teaching (Art Education). I have always loved the arts and have been drawn to creating since a young age.  I currently teach elementary art, in addition to working as a professional artist.  I am also the co-owner of perfectly curated shop in Ruston, Louisiana - The Collective: art, gifts, & paper. 
As an artist, I work primarily in acrylic and mixed media – collage, china marker, graphite and oil pastel. I have always been drawn to the contrast created between architectural lines and shapes and the more organic flow of our natural surroundings. In my work, I strive to create a balance of rigid lines among layers of loose marks and color.  Every piece is a raw and authentic expression of my thought and emotion – my experiences. Each layer is a snapshot of thought and dictates the next. My work tells my story, my hope is that the viewer can find their own story embedded within a given piece. 
RUSTON
Meet the Artists
Local art is the lifeblood of our culture and communities. We source work from hundreds of painters, muralists, sculptors, metal workers, printmakers, illustrators, photographers, and textile artists, every one of whom is part of your local community.

Create your Account
With an account you can save favorite works, create collections, send messages to artists, store your shipping info, and more
---
Already a member? Sign in here

;