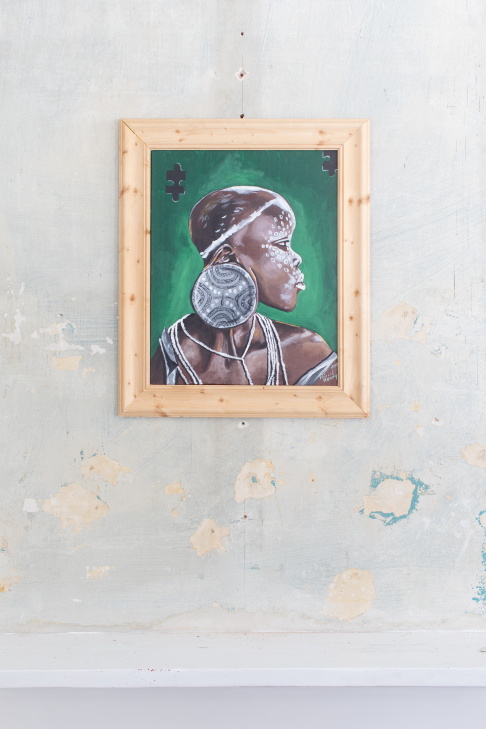 Victory Arts
African Earring
2017
Showing off her cultural earring, this young African girl innocently gazes. Her skin tone and green background contrasts a wall nicely.
Acrylic on Canvas
16" x 20"
Shipping cost: $0.00

Born in Manchester, Jamaica. I am well known there for my drawings and paintings. I used to sell paintings at the craft market in Ocho Rios to tourists from all over the world. Growing up on an island there is always a talk of " WI LIKKLE BUT WI TALLAWAH" meaning even though we are a small island we are big because of our stamp on the world as a whole. There was always more to see and more to be in the world. I moved to New Orleans in 2010 and fell in love with the city, the gumbo of cultures found here, so much art and inspiration, it reminded me of our motto back home " Out of many, One people".
I am an easy going person inspired by other artists, it intrigues me to see them create new ideas and their different ways in executing their medium for desired effects. I have been drawing since I was 5 years old. I would lay under my bed and draw cows under my mattress. I started painting in 2007 and became addicted. My subject matters consist of portraits, landscape and some occasional still life. I really enjoy painting people , everyone is so unique. I usually paint in series, meaning if I am in the mood to paint birds I will do 2 or more paintings of birds until I am satisfied.
I always consider myself a baby of art because with every artist I meet, my outlook changes, I learn something new. My mother always says to me "Your gift will make a way for you" , my father on his deathbed said " Never stop painting, there will be victory even though the army will be shed". So this will be my everything.........I give you Patrick Henry.
SLIDELL
Meet the Artists
Local art is the lifeblood of our culture and communities. We source work from hundreds of painters, muralists, sculptors, metal workers, printmakers, illustrators, photographers, and textile artists, every one of whom is part of your local community.

Create your Account
With an account you can save favorite works, create collections, send messages to artists, store your shipping info, and more
---
Already a member? Sign in here

;