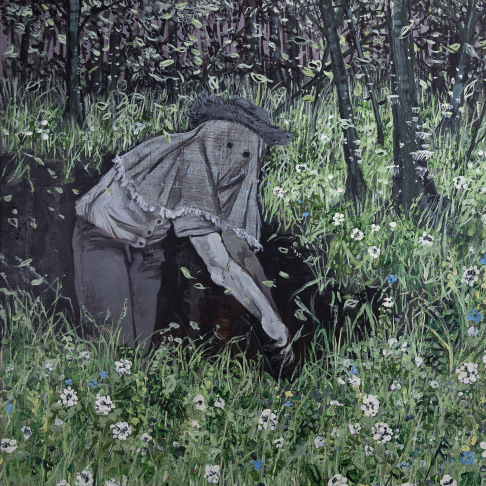 Bootlegger
2018
A lot of people have told me this is a spooky painting of someone digging a grave out in the woods. I was actually thinking of buried treasure, specifically burying contraband goods to reclaim at a later date.
acrylic on canvas
40" x 40"
Shipping cost: $200.00

I'm a Louisiana native currently living and working in New Orleans. I'm originally from Lafayette where I received a BFA in printmaking from The University of Lafayette in 2011. After that I decided to make a big change of location and attended grad school at the University of Iowa where I earned an MA and MFA in 2014 and 2015 respectively. I couldn't handle the snow in Iowa City, so upon finishing school I moved back to Louisiana but suddenly found myself without a print shop. For the previous eight years or so I made almost exclusively woodcuts and engravings so I was at a loss for what to do without a printing press when a friend suggested I try my hand at painting.
Painting was always something I admired in an "I could never pull that off" kind of way so it took me a while to ease into it. Once I became confident I found that I could both emulate and break down the types of textures, patterns, and shapes that I could do in my woodcuts while adding new purely painterly elements. At this point I'm not really sure if I'm a printerly painter or a painterly printmaker but I feel good about both.
NEW ORLEANS
Meet the Artists
Local art is the lifeblood of our culture and communities. We source work from hundreds of painters, muralists, sculptors, metal workers, printmakers, illustrators, photographers, and textile artists, every one of whom is part of your local community.

Create your Account
With an account you can save favorite works, create collections, send messages to artists, store your shipping info, and more
---
Already a member? Sign in here

;